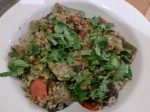 Roasted green wheat freekeh (also known as freeka, frikeh or farik) is rarely used in western cooking although it is one of the oldest food ingredients in the world. The story goes that roughly 2000 years ago when towns and cities used to fight each other frequently, an eastern Mediterranean city was threatened with being besieged. Fearing to die of starvation, the people of that city picked all the wheat while it was still green and stored it. Unfortunately, it caught fire and was burnt. However, out of desperation, they tried to salvage what they could. To their surprise, they discovered as they rubbed off the burnt external skin, that the wheat itself remained intact and edible, they called it farik (later freekeh or freeka) which meant in their spoken Aramaic language the rubbed one. Ever since, roasted green wheat freekeh has become a valuable grain for cooking in the Eastern Mediterranean and North African countries.
The old method of preparation of roasted green wheat freekeh is that once the young wheat stalks are harvested, they are stacked in bunches and dried in the sun, then roasted in the field over an open fire. The aim is to burn off the bristles and the kernel's outer skin or husk, the moisture within the young grain will protect it from burning while the process endows it with a distinctive smoky flavour. When the roasted wheat has cooled, the grains are shelled by hand, dried again but this time away from the sun, then they are either kept whole or cracked. In fact, some farmers in rural parts of the Levant still use this method. Of course, modern technology had inspired farmers and enthusiasts to develop new techniques to prepare freekeh faster, efficiently and in bigger quantities, like the Greenwheat Freekeh Company.
Freekeh or freeka is very nutritious. Scientific research has proven that green wheat retains more vitamins, fibres and proteins than any other grains. In fact, this link  describes the benefits of freekeh, providing detailed tables of the green wheat contents.
The next link to a youtube video gives you an idea how roasted green wheat freekeh is processed by modern farming
Most importantly, freekeh has a distinctive smoky and nutty taste and it is versatile, it can be cooked as a side dish or as a main course. We Lebanese use it mostly in salads and with meat, while neighbouring countries as well as North African ones have their own signature dish, most of their recipes including the Lebanese ones are on the internet.
Here are my own versions for a salad suitable for all seasons and a heart warming soup.
Roasted Vegetables & Green Wheat Freekeh Salad,
Freeka maa al Khoudra
This roasted green wheat freekeh salad is quite sustaining especially if you are a vegan, as well as that, it goes well with barbecued or grilled meat it can be eaten warm or cold, either way it is quite tasty. It is also ideal for picnics or packed lunches.
For this recipe I used coarse cracked freekeh (freeka), but you can substitute it with a whole grain one which might take a little longer to cook.
Serves 4-6
Ingredients
For the freekeh (freeka)
roasted green wheat freekeh (freeka) 1¼ cups
2½ cups water
2 tbsp Olive oil
1 large onion finely chopped
Pinch of salt
1 tsp cayenne pepper
2 tsp dried mint
Dressing    
3 or 4 tbsp lemon juice
3 tbsp extra virgin olive oil
Salt to taste & freshly milled black pepper
About 30 g/1 ¼ oz fresh coriander, rough stalks discarded the rest is washed, dried then chopped
For the roasted vegetables
1 aubergine about 400g / 14oz washed.
450g / 1 lb juicy tomatoes washed then quartered
2 medium courgettes washed then cut into 3 cm / 1¼ inch chunks
2 medium onions peeled then quartered
1 each red and yellow peppers quartered seeds removed
1 tsp dried mint
For the garlic sauce
3 cloves of garlic peeled
4 tbsp olive oil
Salt & freshly milled black pepper
Equipment: 1 non-stick baking tray measuring about 30 cm x 22 cm (12 inches x 9 inches) and one non-stick medium sized saucepan.
Method
Preparing the vegetables
I like to drain the excess bitter juice from the aubergine, it helps to roast better and to absorb other flavours, but it can work without it. With the skin on, cut the aubergine into 3 cm / 1¼ inch chunks then sprinkle over about 1 tsp salt and mix. Transfer into a colander, fit on top a suitable plate on which you place a heavy weight such as tins of tomatoes and leave for an hour to drain away some of the bitter juice. Next, rinse under a tap of cold water then dry thoroughly with a kitchen paper.
When you are ready to cook, pre-heat the oven (fan oven) to 210°C / 450°F.
To make the garlic sauce. Crush the garlic to a paste then add the olive oil, season, and mix well.
Now, arrange the chopped vegetables in the baking tin, sprinkle over the dried mint and mix. Next, drizzle over with the garlic sauce and toss in the vegetables so they are well coated, season again with salt and pepper and give it a good stir. Pop it in the oven for about 30-40 minutes or until the vegetables start to brown round the edges.
To prepare the roasted green wheat freekeh
Pre-packed freekeh is usually clean. If you have purchased it loose, it may contain some dirt, tip into a fine sieve and rinse a couple of times under a tap of cold water and drain well.
Using a medium heat setting, heat the oil in the saucepan then tip in the chopped onion and cook for about 3 minutes. Next, add the freekeh (freeka) and sauté the mixture until all the grains are coated with oil, then pour in the water, add a pinch of salt, cayenne pepper and bring to the boil. Reduce the heat slightly, stir in the dried mint and simmer for about 20-25 minutes by which time the water should have been absorbed while the mixture remains moist and the grains have softened. It is worth checking the mixture when simmering, so if it is cooking dry, top it up with a little more boiling water. If using whole grain freekeh (freeka), increase the amount of water by roughly 85 ml/ 3 fl oz and simmer for a longer time. Once the freekeh (freeka) mixture is cooked, let it stand covered for 5 minutes before assembling the salad.
Assembling the salad.
Tip the cooked freekeh (freeka) over the roasted vegetables, so the roasted green wheat freekeh would absorb all the juices and gently fork it in, adding the chopped coriander and drizzling along the dressing, so all the flavours mingle together. Transfer into a large salad bowl and serve.
Tags: farik, freeka, freekeh, frikeh, lebanese side dishes, roasted green wheat