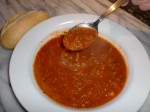 This tasty Freekeh Tomato Soup, Shorbet Banadoura maa Freekeh is made simpler and quicker by using ingredients usually found in the store cupboard:  tinned chopped tomatoes, stock cubes, freekeh and dried herbs. It is also versatile because both vegetarians and non-vegetarians can cook it as you could use either vegetable stock or beef stock. More effectively, the addition of freekeh gives it that nice nutty flavour which turns it into a warm comfort soup suitable for a wintery evening. 
The Freekeh Tomato Soup recipe described below makes two substantial portions. You can always double the quantity of the ingredients if you want more.
Serves 2
Ingredients for Freekeh Tomato Soup, Shorbet Banadoura maa Freekeh
1 tin of chopped tomatoes weighing about 400g / 14 oz
1 tbsp olive oil
1 small to medium onion (about 100g/ 4oz) thinly sliced
3 cloves of garlic sliced
1 tsp dried mint
Vegetable or beef stock cubes that will make 450-500ml/ 15 -17 fl oz of stock.
30g / 1¼ oz freekeh whole or cracked: either would do
Salt to taste and freshly ground black pepper
To garnish (optional), 1or 2 tbsp of freshly chopped herbs such as mint, parsley, coriander, fresh thyme.
Method
I tend to process the chopped tomatoes in the food processor to give the soup a smoother texture, and I do that before cooking. You don't have to if you don't want.
Using a medium setting, heat the oil in a medium sized pan then tip in the sliced onions and fry until just softened, a couple of minutes. Stir in the garlic and cook for another minute then pour in the processed or chopped tomatoes, mix in the dried mint followed by the stock. Give the mixture a good stir, increase the heat to bring to the boil, then reduce, cover the pan leaving a little gap and let the mixture simmer for 20 minutes. Meanwhile, soak the freekeh, especially if it is a loose one, to get rid of any dirt.
When the simmering time is over, taste the mixture and season to taste then drain the freekeh and stir it in. Increase the heat briefly to bring the soup to the boil then simmer covered for another 15 minutes or more until the freekeh is cooked to your taste, some people like it with a bit of crunch, others don't.
Check again the seasoning and adjust if necessary, then serve as it is or sprinkle on top your favourite herb.
Enjoy your Freekeh Tomato Soup, Shorbet Banadoura maa Freekeh.